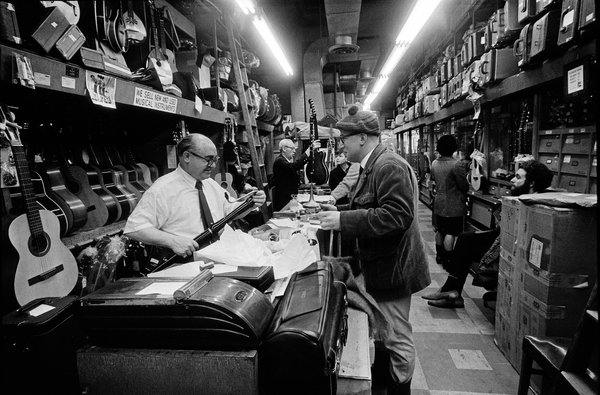 "Mitch the Multi Instrumentalist" from Oregon posed a great question:
"Who really made those Ponte oboes?"
Well Mitch, I spent more than a few years at Charlie Ponte's midtown Manhattan shop as the reedmaker (and floor sweeper, truth be told). During that time, I saw dozens of new Ponte oboes come in and go out. You would think I would know everything about them, right? I honestly think that no one knows the full story except Charlie, and he's been gone a while.
In the photo above, Charlie is the man on the left. Bennie Fairbanks is further down the counter. My reed making counter was just to the right of this photo. Unfortunately I don't know who the customers are.
People have been sending them to me for many years, and I've repaired and sold dozens and dozens of them. From what I've seen, there are three main types of "Ponte Oboes." None of them were made in Manhattan, of course.
There's the lighter, thinly plated version, which is often stamped "made in Italy" somewhere on the body. These resemble the Prestini oboes from that time period. I believe those were made by Chasserini, a relative of Prestini's who turned out a lot of stencil instruments. Remind me to tell you about old man Prestini sometimes. He came from Italy to Ponte's shop every few months to wine and dine with Charlie, Sam, and Benny. Quite a character.
The mama bear versions are marked "made in France" and seem uncannily like older Kreul instruments. They have familiar intonation quirks, and the key structure is very similar. The overall dimensions, weight, and feel are like Loree oboes from that period, but I don't think there is any connection there.
The big bruisers are the "made in Germany" models, which are most probably from Malerne. They're heavier, more richly plated, and often have a really dark, chocolaty tone.
Like many smaller companies, Charlie imported instruments with no name on them from quality manufacturers. He then stamped his mark on them, and gave them serial numbers. I swear the numbers make no sense at all, so don't even bother trying to date an oboe by that method. These, as you know, are called stencil instruments.
The best of Ponte oboes can be extremely good instruments and I've performed on them over the years. Charlie retired in 1983, and didn't produce very many oboes at the end of his run, so you can count on all of them being from before 1983.
Thanks for asking! If you ever want to try one, we have models for sale pretty regularly. Visit our used instrument pages to see what's available.